"Becky Duncan will help you create passionate fans and loyal clients"
Sure, that's what they say now. When I was a kid, it was more like:
"Becky was vaccinated with a phonograph needle"

"She's stubborn as a mule"

"She calls an ace an ace and a deuce a deuce"
Which really just means I'm a straight shooter that loves to talk to people and won't let you down.
And that's exactly what I help you do:
I work with online business owners who are struggling to find and engage clients. We'll work together to create genuine connections within your community. Once they become passionate fans, they're ready to tell everyone about your business and buy from you again and again.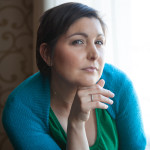 I earned a degree in Sociology, studying patterns of social interaction. Eventually, I earned my masters and started my own company around my passions of people, relationships and easy organization.
Combine my straight-shooting style and years of experience with a touch of OCD, and you'll get my practical, adaptable, expert strategies to build a business of clients who love working with you—and you love working with!
If you're ready to grow your business and make genuine connections with ideal clients, I can't wait to meet you.
Click here to find out how we can work together to make your business dreams come true.