Meet Blog Buster – one of the lessons designed for Business Basic Training. It's your step-by-step plan to attract ideal readers and paying clients.
A system to create stand-out-from-the-crowd blog posts, make blogging seamlessly simple and entice readers to (finally!) comment.
All in an easy-to-follow, repeatable package.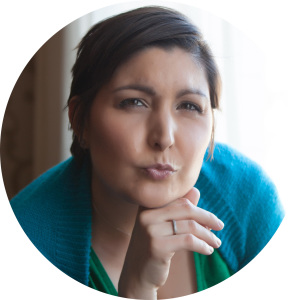 The experts talk about the importance of blogging consistently and producing engaging content. But HOW?
Blog Buster is designed to walk you through a detailed, effective routine to:
Generate topics specific to your ideal clients so you can attract more of the people you love to work with

Compose can't-stop-reading posts your readers will share with everyone they know

Inspire your readers to leave comments so you can create a supportive, passionate community of potential clients
Turn readers into passionate followers—and passionate followers into paying clients. 
Easy.
You've got enough going on in your business. You don't have time for a staring contest with your cursor. Blog Buster is designed to blast through writer's block and provide you with endless ideas. And since you'll be busy writing (and meeting new clients), you won't have time to mess around. That's why Blog Buster is served up on a (virtual) silver platter, ready for you to dive in. 
Specific.
You can rock an off-the-rack dress, no sweat. But have the same dress tailored, and the world is your red carpet. Blog Buster is exactly the same (without the catty "Worst Dressed" list). You'll get templates and outlines designed to get you started. Then, it's time to tailor it until your system fits like Spanx. Only hotter.
Repeatable.
After you crank out your first Pulitzer quality blog post, you'll want to pop the champagne—until you remember you have to do it all over again. No problem. Your Blog Buster Guide will lead the way from inspiration, to publish. Every week, every post, every topic, holding your hand, helping you get it all done without confusion, without frustration.
These five training videos will give you all the tools and guidelines you need to:
Capture flashes of genius and have them waiting when it's time to write

Generate endless, fresh, creative topics on the spot so you can engage your community

Use the Constant Filter to drive blog traffic to your paid products and watch the money roll in like Scrooge McDuck

Let your post stand out from the crowd and attract clients you love working with!

Relax on blog day knowing your content is on point and people will be clamoring to share it

Make post construction clear and simple, even if it's your very first time, every time

Finish your post sooner so you have more time to spend on your business—and your life!

Draw readers in with these free, simple resources (that make your post beautiful!)

And bonuses worth their weight in gold!
Your $49 investment will leave you with at least a year's worth of blog topics, the systems and tools you need for blogging ease and success, and an invitation to join the Business Love At First Sight forum where help is at your fingertips.
You've tried editorial calendars and writing down your ideas on Post-its. But it's not working.
Blog Buster was created for and tested by real bloggers with hardcore writer's block. Bloggers in the business so long they thought they'd said it all. Bloggers pouring hours into a post only to hear the sound of crickets. Bloggers sweating in the face of a deadline, praying for a good (or any) idea.
After mastering Blog Buster, here's what they thought:

"Blogging is so much better! It's painless and a lot faster – which is a good thing! I've printed off the Blog Anatomy (reference) and taped it over my desk. I'm super confident and it feels much much easier." —Rena
"I love, love, love this! This has been such an amazing experience. I was so lost not only when it came to blogging but with everything because my message wasn't clear. You helped me work through that and now it's crystal. I'll be a repeat customer." — Mary

"I have to tell you – that is an incredible tool. Well done!" – Laura
Sounds great, right?
It's time to stop struggling to write and give your blog—and your business, the boost they deserve. Blog Buster can help you turn readers into passionate, engaged fans and your fans—into paying customers.
Grab your spot below and start building your blog now. Your business is counting on it.
When you sign up for Blog Buster, you'll get:
V

ideo One:

What Do They Want? will show you how to understand what your ideal clients want to read and how to speak their language so you can, you know, actually communicate with them
Video Two: Plan Your Posts! is where you'll be able to create content for the next year without a drop of sweat
Video Three: Blog Post Structure shows you a quick, repeatable process to write blog posts that pull readers in
Video Four: Headlines That Grab 'Em! is the key to writing headlines that stand out in a crowd and get your articles read
Video Five: Extra, Extra! walks you through all your Blog Buster bonuses to ensure you use every single tool at your disposal
Resources:

The secrets you'll depend on to orchestrate your blogging empire

Bonuses:

Everyone loves SWAG. These are yours. All 7 of them. (Including 55 done-for-you headlines to ensure your article gets read!)
Set yourself up for blogging success and feel just as excited as you did for your very first post.

Want a little extra TLC? Yeah you do! Sign up to be a Blog Buster VIP and get two, 45 minute private sessions to walk you through any stumbling blocks, issues, or questions you might have. Get blog edits, expert insight on your year's worth of blog posts or personalized coaching on boosting your open rates.
You've been trying to build up your blog for awhile. Think of where your blog could be in three months if you could attract more readers—and where your business could be if you attract more clients.
Don't kick yourself three months from now; grab Blog Buster below and give your business, and your blog, the breakthrough they deserve.