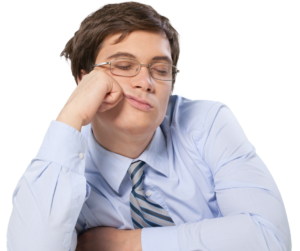 You've got 8 seconds to capture someone's attention.
Make the most of it. 
In Part One of this two part series, we discussed bullet points and how you should:
Use them
Keep them short
Make them look similar
Pick one style and stick with it
Now that you have the mechanics, let's get to what they should say.
Remember when I told you people don't read every bit of copy? And that people who skim will stop at the bullet points?
Not to put too much pressure on those tiny dots, but they might be the only thing potential customers read.
You need them to be intriguing. But also precise enough to explain how you can help.
Intriguing and precise.
It's a tough combination. But you can make it happen.
Let's say you're starting out with this bullet point:
"Journaling will help you end cravings and lose weight"
Asleep yet?
Enter the Silver Bullet Method
Step 1: Name it. Identify what you're talking about. Bonus points for creating a proper name. Using a proper name is both precise (specific name) and intriguing (you haven't reveled how it works). For instance, instead of writing, "This strategy will help you…" try,
"The Zig Zag Formula will help you….".
Step 2: How it helps. Explain what it does so readers know why they want it.
"The Zig Zag formula will help you silence the call of Doritos".
Step 3: List the benefit. You knew this was coming right? It's not the first time I've mentioned how important benefits are.
"The Zig Zag Formula will help you silence the call of Doritos so you never feel out of control and can finally slide on your skinny jeans."
And with those three, easy steps, you've turned a potential snooze-fest of a paragraph into a powerful, intriguing and precise bullet point that will draw in even the speediest of skimmers.
In the next email or sales page you write, your challenge is to use the Silver Bullet Formula to create magnetic bullet points in your copy. 
Need help? Tag me in Business Love At First Sight  or leave your question below.